1. She's so good at everything!
My mom can whip up a magical meal out of a stick of margarine and a box of rice. She can sew on a button or cross-stitch a work of art. She raised a family and then joined the workforce. She paints, she exercises, she reads, and she journals. She's smart, she's stylish, and she's kind. My mom is good at everything without even trying—that's so annoying!
2. She has boundless energy!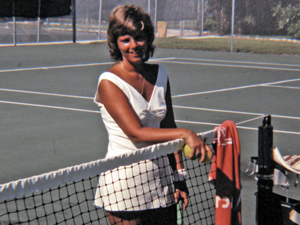 I mean, honestly, the woman never slows down! In addition to working a 40-hour week as a school secretary, she meets with friends, is involved at church, occasionally weeds my yard, shops all over northwest Indiana looking for the best possible deals, and stays up late sewing or cleaning or scrapbooking while she's learning things from the History Channel. Then she looks forward to the weekend so she can go on a bike trip, travel out of town, or attend her grandchildren's games, plays, and concerts! How does she do it?!
3. She's so darn proud of her kids!
It's kind of embarrassing! I mean, sure, we are pretty wonderful, but come on! Not everybody wants to hear about all our latest achievements. Or do you? Because if you do, just ask my mom, and she'll tell you what good parents we are, what hard workers we are, what great people we are—it's so annoying!
4. People love her!
I guess that's not really annoying, because I love her too.
Thanks, Mom, for everything. Happy Mothers Day!
Related posts:
a