Last week's post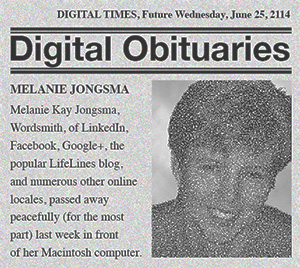 raised the question of what I should do with my digital assets after I die. And no, I still don't have a satisfactory answer to that question.
But a related issue is this: How do you let your online friends know when you've passed on?
Your online friends might be people you've never met in real life—blog subscribers, fellow members of LinkedIn Groups, Twitter followers, Facebook friends. Your relationship with them is real, though it's different from your other relationships. So you would hate to just disappear and leave them wondering. And it probably won't occur to your family or other survivors to contact people in your online life.
So what you need is a "digital obituary." And there are a few interesting options available.
Facebook options (you can't plan ahead)
One of last week's commenters mentioned a friend who died three years ago. The woman's sister decided to keep her Facebook profile "live." This commenter said, "It's creepy when a post from her appears on my newsfeed, knowing that she is gone."
That does seem a little creepy to me, and I'm not sure what the sister's purpose is in posting on her dead sister's behalf. It's probably more common for family members to either let the page go silent, or post a notice on the deceased's timeline letting visitors know what happened.
In fact, Facebook does give you some options in case of death, as explained in this About.com article:
"Facebook actually has an FAQ section dedicated to the three options people have with a deceased individual's account: memorializing the account, requesting to delete the account, or downloading the contents of the account, and then having it deleted."
So that's nice. It's nice to have options. But all these options are available only after you die. That is, you can't make arrangements with Facebook ahead of time to delete your page if there has been no activity on it for, say, 21 days. You have to give someone the responsibility to make this decision for you after you're gone.
Blog options (a little planning)
Blogger Ronni Bennett has done some thinking about online relationships, and she posted this blog about her plans for letting people know when she's gone. She says,
"We leave last wills and testaments to dispose of our belongings. Some people leave instructions for their funerals and memorial services, choosing music to be played and food to be served. …And so, we should leave a final blog entry too—with clear instructions, needed passwords, and other information on how to post it for those who may not be familiar with blogging software."
Ronni has written a final blog post, and she updates it occasionally. What I don't know is who will post that blog for her—or how she chose that person.
Google (plan ahead and modify if needed)
Now Google has the right idea. They allow you to make plans ahead of time for all your Google assets—Gmail, YouTube, Picasa, and all those other programs that are in the Google suite. The name of this service is Inactive Account Manager. So when your accounts become inactive because you've become inactive (i.e., dead), the service allows you to manage what happens. Google even sends you a reminder email every three months to let you know what your settings are and give you the option to change them.
I went ahead and told Google to email all my family members if my account becomes inactive for three months. I supplied the email addresses, and I wrote a message. When Google sends the emails, they will include a link where my family can download my account data. If I change my mind later, I can add different emails, rewrite the message, or simply tell Google to delete everything so my survivors don't have to worry about it.
Go ahead
Making plans for a digital obituary is a way to show some consideration to your online friends—and to your real-life survivors who may be tasked with notifying people they don't even know exist. So at least think about one or more of the options listed above. But also consider this quote left by another commenter on last week's post:
"We all would like to think we will live to a "ripe old age," whatever that is, but the truth is, "Men and women don't live very long; like wildflowers they spring up and blossom. But a storm snuffs them out just as quickly, leaving nothing to show they were here." (Psalm 103:15–16, The Message) However the next verse assures us: "God's love, though, is ever and always, eternally present with all who fear Him." That is what keeps me from obsessing about what will happen when I am not here or able to function any longer."