In this age of social media and digital marketing, old-fashioned fundraising letters (or, "direct mail") seem slow, expensive, and out-of-place. But mail still gets results. The Direct Marketing Association's Yory Wurmser is quoted in Direct Marketing News as saying that direct mail boasts a 4.4% rate, compared to email's average response rate of 0.12%.
It should be pointed out, though, that email costs almost nothing, so while the response rate is lower, the return on investment is higher. It makes sense then, if you do decide to take on the printing and postage expenses of a traditional direct mail campaign, that you do what you can to ensure success.
I've spent much of my career helping nonprofits raise money, and I've learned that successful direct mail campaigns have a few elements in common:
1. Actual stories
People give to people. You may be very impressed with your organization's mission statement or organizational structure or brand positioning, but I'm not. I want to know whose life you are changing. Tell me the story of someone who was cured, educated, saved, or fed because of the money I gave you. Show me the difference you and I are making together.
2. Earned trust
When I worked for a nonprofit called the Bible League, we had a team of Regional Field Directors who personally visited donors to share results, thanks, and needs. I remember one of those RFDs telling us the key to his success. He said, "Yes, these people give to the Bible League because they believe in the work the Bible League is doing. But really, to them, I am the Bible League. They give to the Bible League because they have a relationship with me. They like me. They trust me." Trust is earned through relationship. Every communication with a donor—in print or in person—should build on trust you've already earned in relationship with that donor. They should know things about you, and you should know things about them.
3. Authentic creativity
Creativity is what can help your letter stand out in a mailbox full of bills and junk mail. But creativity should enhance your message, not compete with it. This appeal from the Greater Chicago Food Depository is a great example of creativity that serves a purpose.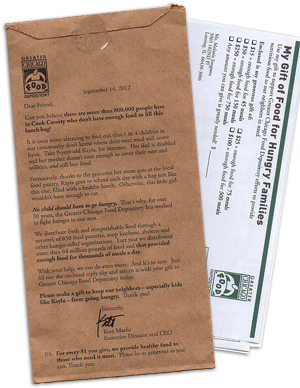 It's a brown paper bag. And the letter is printed on the outside, so I didn't even have to open it to get the message. They lead with, "Can you believe there are more than 800,000 people here in Cook County who don't have enough food to fill this lunch bag?" The bag supports the message. On the other hand, when I received a similar brown-paper-bag mailing from a car dealership ("Payments are less than the cost of lunch each day!"), the tie-in was weak, so it felt like a gimmick.
4. Appropriate ask
If you are asking me to make a major gift, make sure the medium you use shows respect for my hard-earned dollars. Don't send me a cheap postcard at bulk mail rates to ask for a $10,000 sponsorship. An ask of that size demands more "heft." Write me a letter several pages long—I might not read the whole thing, but I'll believe that the details are there if I want them. Send me photos of the project, and charts, and graphs, and lists. A big gift is a big decision, and it deserves a bigger envelope and a little more postage.
5. Achievable results
If you're counting on me to make a difference, then I want to see the difference I've made. If I keep giving and giving, and I never hear that the goal has been met or the project has been completed, I lose heart. I want some assurance that we're making progress. And, frankly, it's just bad manners to come to me only when you need more money. You should also be thanking, reporting, and touching base in between asks.
What about you? Which nonprofit organizations do you donate to? If you receive mail from these organizations, do you notice any of the above elements in their communications? What other elements would you add to this list? Or, what kind of direct mail do you hate? And why?
P.S. If you work for a nonprofit, and your current fundraising appeals are not resonating with donors, let's talk. I won't be able to solve any deep strategy problems or integrity issues, but if the other pieces are in place and you just need a strong writer, that's a need I can meet.