1. "Because I said so."
To the smart-alec child who hears this as a "reason" either for or against something, it makes no sense and is only frustrating. And perhaps there are fathers who fall back on "Because I said so" too quickly, too easily. But I am pretty sure my own father's "Because I said so" was often used purposefully. Those four words changed my life by teaching me a respect for positional authority, by helping me realize that sometimes it's enough to trust someone who knows more than you and wants what best for you.
My dad's "Because I said so" was shorthand for the Biblical advice found in Ephesians 6:
"Children, obey your parents in the Lord, for this is right. 'Honor your father and mother'—which is the first commandment with a promise— 'so that it may go well with you and that you may enjoy long life on the earth.'" (vv. 1–3, NIV)
2. "Garbage in, garbage out."
Sometimes shortened to "G-I, G-O," this phrase was never really explained by my dad. He just tossed it out there as a reason when we asked things like, "Why can't we watch TV instead of playing outside?" or "Can I have ice cream for supper?" Even today I am reminded of this truth when I step on the scale after a week of candy bars instead of fruit, or when "We Built this City on Rock and Roll" is stuck in my brain but I can't remember Psalm 23.
I think my dad got "G-I, G-O" from Luke 6:45—
"A good man brings good things out of the good stored up in his heart, and an evil man brings evil things out of the evil stored up in his heart. For the mouth speaks what the heart is full of."
3. "I'm sorry."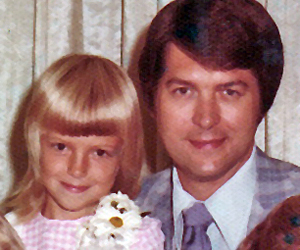 One Saturday morning when I was a child, I was helping wash the car. My dad was in the driveway too, joking around with our neighbor who had walked across the street to chat. I was too young to truly appreciate what a sensitive machine a car can be, and I was using a pad of steel wool to try and remove some bird splat from the hood. (It worked so well on the whitewalls of the tires, I figured it would really brighten up the rest of the car too!) When my dad noticed what I was doing, he yelled at me, "Don't do that—you'll scratch the paint!" I was surprised and hurt by this outburst, and I started to cry, though trying to look stoic in front of my dad and his friend. The friend said, "Aw, Allen, come on, it's just a car," or something sympathetic like that. And my dad came over to me and said, "I'm sorry. I didn't mean to yell at you. It's ok." That my dad would apologize, in front of his friend, to his illogically sobbing daughter, who was in fact doing something wrong, speaks volumes to me. When I recall the incident now, I realize what an exhibition of manliness and godliness it was.
In being willing to say "I'm sorry," my dad lives out Ephesians 4:2—
"Be completely humble and gentle; be patient, bearing with one another in love."
4. "A happy wife is a happy life."
While my dad thinks he's joking around when he says this, I know that he's actually expressing a serious commitment. He is committed to my mom "'til death do them part," and not just in a vague, romantic sense, but in practical, everyday decisions. He tries to make it sound like it's a huge sacrifice and a lot of work to achieve "a happy wife," but we all know that the give and take are equal and the happiness is mutual. Our whole family has benefitted from the matter-of-fact stability that comes from knowing your parents love each other, and it's a model we all try to live up to—not just in marriage, but in all relationships.
After all, that's the instruction God lays out for marriages in Ephesians 5:25—
"Husbands, love your wives, just as Christ loved the church and gave himself up for her…."
And for the rest of us in 1 John 3:16—
"This is how we know what love is: Jesus Christ laid down his life for us. And we ought to lay down our lives for our brothers and sisters."
Dad, I love you. Happy Fathers Day!
And if the rest of you have your own "fatherly phrases" that have stuck with you since childhood, please share them in the comments!
Related posts:
a