I consider myself blessed to have grown up in a family that appreciates humor. (My dad usually provided the humor, and my mom usually provided the appreciation.) My dad probably got his sense of humor from my grandfather, who has always enjoyed a good joke or a clever turn of phrase.
And now that my family has expanded to include a brother who is a father and a brother-in-law who is a father, I thought it would be fun to share a few funny father stories from these four fun fathers in my life.
My brother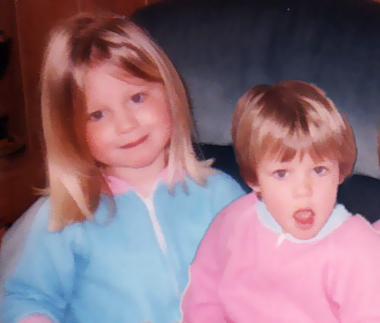 "There's not two Dads," 1998
When my brother Ken's two oldest girls were about 4 and 3 years old, I had them overnight at my house while he was out of town. He had been gone for about a week, so his family was missing him, and the girls were overjoyed when he called my house to talk to them. I handed the phone to my younger niece, and she began telling Dad about her day. I noticed my older niece starting to pout, and I motioned her to the other room saying, "There's two phones!" With undeniable logic she muttered, "There's not two Dads!"
My brother-in-law
Steve often writes his own stories, and I appreciate his writing style, so I've copied a story here from the blog he occasionally posts:
A number of years ago I visited a church in Pasadena, CA; a beautiful, small and diverse body. After we sang a song in a language I passed in high school but failed to internalize, we sat down. I was seated next to three boys who throughout that week had taken it upon themselves to introduce me to their neighborhood, only as they could see it. The preacher got up, and out came the candy; a sure sign of the true church. They each took one and passed the bag down to me. They assured me it was watermelon flavored. "Excellent!" I love watermelon candy. The essential piece of information they left out was that the watermelon candy was shrouded in a thick layer of dried, ground, chili pepper. I now know why they giggled and poked each other while never taking their eyes off me as I unsuspectingly placed the small red candy in my mouth. "Excuse me, I have to use the restroom," while their inaudible church laughs turned into audible convulsions and tears, which certainly couldn't have been mistaken as the work of the Holy Spirit.
My grandfather
Several years ago, my Grampa Henry gave me a worn, stained photo and asked if I could make a copy for him. I did so, and kept a digital version in my files. Which means I was able to include it in the screensaver I made for Gramp's computer when he moved to Holland Home. It appears on the screen every now and then during my visits there, and recently I asked a few questions and found out the following: "Harmonica Band" consisted of, from left to right: PeeWee, Mickey, Al, Hank (my Gramp), and Herm. They were directed and managed by their sixth-grade teacher, whom they loved. Gramp couldn't remember what kind of venues they played at, other than school assemblies. When I asked what kind of music they played, he shrugged, laughed, and said, "Prob'ly hymns."
My dad
Ok, this is not really a "funny" story; it's more of a "sweet" story. I'm sharing it because it gets at the heart of fatherhood on a few different levels.
A few weeks ago, I was at church talking to a black man named Alvy Butler. He said, "You're Allen Jongsma's daughter, right?" I confirmed, and Alvy said, "Oh, your dad is a wonderful man." I agreed. Alvy continued, sincerely, "You know, he's like a father to me. I lost my own dad when I was 17, and I missed having that fatherly guidance as I was becoming a man. Your dad has been giving me that guidance—I missed it when I was younger, but it's still helping me even now. Because I have a son who's becoming a man, and your dad is helping me to be the father to my son that I didn't have."
It was quite a brief exchange, but there's so much in it, isn't there? The idea that my dad's days of "fathering" are not over, even though he's in his 70s. The idea that Alvy is rising above his past in order to change his son's future. The idea that "fatherhood" transcends differences in culture, age, and experience, giving these two fathers a genuine appreciation for each other. I love it.
Dad, you're awesome. Keep up the good work.
And Happy Fathers Day!