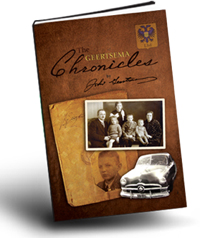 When John Geertsema died just a few years after his memoir was completed, his family was relieved that they had encouraged him to start writing when they did. His book, The Geertsema Chronicles has become a treasured family heirloom. (Click the image to read more details about the Geertsemas' experience.)
John's writing journey began when his kids gave him a journaling book for Christmas one year. Inside the book was a note from his children:
"Dear Dad, We enjoy hearing you tell the stories of our Geertsema family heritage. We would love for you now to put down your memories in writing as a gift to us and future generations of our cherished heritage."
So John Geertsema began journaling, and his notes and memories eventually became a printed book, illustrated with old photographs, newspaper clippings, and documents from a lifetime of files.
What's your story?
Do you have a story you want to share with your family? Or with the world?
Do you have a family history you want your children and grandchildren to know about?
Or a selection of journal entries you'd like to turn into a keepsake?
Or an inspiring account you'd like to self-publish?
Contact LifeLines. I can proofread, edit, and design your personal or family story, transforming it from a text document into a beautiful hardcover book, paperback, or e-book. Whether you plan to become the next best-selling author or you just want an heirloom your whole family can enjoy, we can work together to create a product you can be proud of.
To learn more about the process and the possibilities (including the Geertsemas' story), click the image of John Geertsema's book. And to learn about service and pricing levels available, read "Manuscript services."
Or visit the Personal Writing category to read some of my own personal writings. Maybe they'll inspire you to capture your own thoughts on paper!
Satisfied customers
"I was really blessed by the project too! Giving of yourself to something meaningful always seems to come back as a blessing. Thank you again for adding your expertise and creativity to The Geertsema Chronicles."
–John Geertsema's daughter Nancy, who worked with him on his autobiography
"Melanie took my son's poetry to date and created a published piece that took his breath away. It was a wonderful way to honor his creativity, passion, and character. It is a birthday gift he will not soon forget. I strongly recommend Melanie. Her integrity, experience, and creative results set her apart. You will be truly blessed by her attitude and work."
–Lara V, who published her son's poetry
"Melanie is the finest editor I have encountered. As a writer, I have encountered several editors who have lost my voice in the process. Melanie edits my work without losing my voice. She cleans up the work, so it gives it credibility, yet she remains in the background. I believe that is a sign of a great editor. I would recommend using her editing for any writing project."
–Chris K
"I just wanted to say thank you so much for taking care of my sister in the book publishing process. I knew you were the person for the job, and you lived up to your high standards. She is so excited, and, therefore, so am I. I am deeply grateful, not only for what you do, but just as much for who you are."
–Jason P, whose sister Ardella wrote about her mother's experience with Alzheimer's
"I cannot tell you how wonderful I feel seeing this 40-year-old project coming to fruition. Thank you!"
–George Griffiths, an Illinois businessman with an interesting personal history