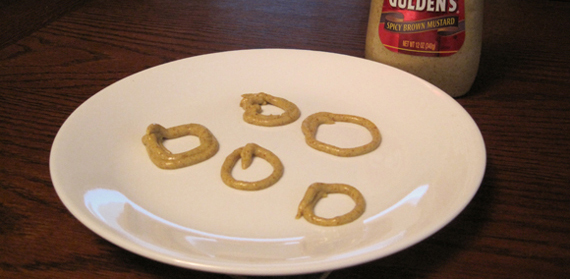 Final phrase
Can you tell what common Christmas phrase is represented by the photo above? EMAIL your guess to [email protected]. (DON'T put your guess in the comments—you'll ruin it for everyone!)
Last week's answer
Last week's Christmas phrase was a tough one— "In Excelsis Deo." After you think about it, it will seem obvious—in eggshells, yeasts stay-o. (Hey, some people got it!)
Week 3 winners
Congratulations to our three winners!
6:00am winner: Jim Grutzius took one look at the photo and sent in the correct answer at 8:10am. This was a couple hours after Michelle Lagestee began guessing. In fact, she had already logged three incorrect guesses by the time Jim submitted his answer! Congratulations, Jim G!
I also want to give a shout out to Jim Heethuis who guessed correctly just minutes behind Jim G. So close, Jim H!
12:00n winner: Well, we did not manage to completely dethrone Michelle Lagestee, but we did delay her victory, and I think it's fair to say we successfully drove her crazy last Wednesday. She sent a total of 22 emails and posted at least 13 comments on Facebook, in addition to harassing her co-workers and patients at the hospital where she works.

6:00pm winner: Andre Nauta was close, but his 6:35pm email was missing the "Deo" part of the Christmas phrase (which is arguably the most important part), so the accolades go to Karin Vredeveld, who submitted repeated guesses in person and finally talked herself into the correct one. "Shells? Eggshells? Yeast? Eggshells yeast? Oh, In Excelsis Deo? Is that it? Is that right? In Excelsis Deo?" Yes, that is right, Karin. Congratulations!
These three Christmas snowflakes will each receive a 1GB USB "story storage" drive, and an extra measure of Christmas joy. Congratulations!
Tune in next week (the day after Christmas) for the final answer and a grand recap of all our winners. And thanks for playing!