I received word a couple weeks ago that a client of mine had passed away.
John Geertsema was a veteran of the U.S. Army, and before that he helped the Dutch Underground during Hitler's invasion of Holland. He was an avid fisherman, a grower of orchids, and a self-taught vintner.
He began writing the story of his life in 1994, when his family gave him a journaling book to help him get started. They wrote inside the front cover, "Dear Dad, We enjoy hearing you tell the stories of our Geertsema family heritage. We would love for you now to put down your memories in writing as a gift to us and future generations of our cherished heritage."
And so John Geertsema began writing.
He dug in to the project and worked on it for 15 years. The book his children had given him asked questions that prompted memories, and he hand-wrote the answers, and then gathered appropriate photos, news clippings, documents, and other memorabilia to illustrate the stories he was sharing. He took his time and gradually built up a well-documented collection of memories about his childhood, his relatives, his early days in America, and the love of his life, Ann Wigboldy, who became his wife of 55 years.
In 2008 his daughter, Nancy Buis, enlisted my help. She had seen a book I worked on for a friend of hers (Let It All Out) and wondered if I could do something similar with the stories her dad had been compiling.
The Geertsema Chronicles turned out to be one of my favorite projects.
Success with the process
I've referred to Mr. Geertsema's book a couple of times in other posts (Memoirs: enjoying the journey and Thanksgiving Top Ten) because I think it's such a good example of what sharing your story is all about. Ideally, the process of remembering and writing will be as rewarding as the published product. John Geertsema experienced this:
He entered the process of writing his autobiography at the request of his children. So he already had a specific audience and purpose in mind when he began writing. He had no dreams of becoming a best-selling author; he just wanted an heirloom for his family.
His family provided him with a tool to help him get started. If they had just said, "Dad, you should write your stories down," the task might have seemed overwhelming. By using the book they gave him, he was able to work on it a step at a time.
John's daughter Nancy got personally involved in the final stages of the process. Although her dad learned to type on his own (in his 70s!), she helped organize the manuscript. She also spent hours with her dad, poring over the photographs and documents he had gathered. Together they labeled them with dates and captions. It was a lot of work, but Nancy would not trade those rich moments with her dad. Each time she looks at his finished book, she'll remember the conversations they had together.
John is probably a natural story-teller, and of course that helps when you're writing a book. But he also did the extra research and looked up dates and place names and other details. Those details will help make his autobiography a lasting legacy because they root his stories to specific moments in history.
Success with the finished product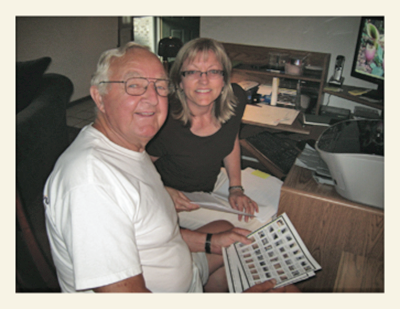 John Geertsema could have been satisfied with the handwritten stories he had penned in the book his children had given him, and the corresponding pile of photos and clippings. But his daughter realized that leaving the stories in this form would not make them very accessible to the entire family—because only one person could "own" the collection at a time; because John's handwriting may have been difficult to read; because photos could have become lost in the shuffle; and because documents would continue to get more and more brittle with age. Her idea of turning her dad's work into a published book solved all of those problems. Here are some factors that made the finished product—the published book—a success:
Nancy recognized when she needed help. After typing up her dad's manuscript, she tried laying it out in Microsoft Publisher, but the document quickly became unwieldy. For one thing, Publisher is not really robust enough to handle a book-length document with more than 100 high-resolution photos. For another, after spending so many hours so close to the project, Nancy realized she needed fresh eyes and a fresh perspective. She was willing to ask for help rather than become overwhelmed by the project.
Nancy was also willing to let me do my job. It can be hard to turn over your labor of love to someone outside the family, but Nancy was willing to trust me. She let me do the editing that needed to be done because she trusted that her father's voice would not be lost in the process. I was careful to honor her trust.
At the same time, Nancy continued to stay involved in project. She didn't simply dump all the resource on my desk and then disappear, expecting a published book a week later. She was available to answer questions, to proofread chapters as I completed them, to get input from her father, to email me photos and fill in caption information. There may be services available who "do all the work for you," but they charge a whole lot more than I do, and I can't imagine that the finished product would have the same level of accuracy.
Both Nancy and her father kept their original audience—the family—in mind even when making final production decisions. They wanted the book to be a high-quality representation of the 15 years of work they had put into the project. So we created a hardcover book full of full-color illustrations that really bring the stories to life. At the same time, they were aware that not every member of the family would be able to afford the "deluxe" version. So we made a range of options available—a full-color hardcover, a full-color paperback, a black-and-white hardcover, a black-and-white paperback, and a downloadable PDF. The beauty of print-on-demand publishing from places like Lulu.com is that once all the files are uploaded, you can send people a link and let them order whichever version they prefer. The Geertsemas ordered a few printed copies for themselves and then sent the link to their relatives in the Netherlands, who placed their own orders.
When Nancy emailed me to let me know about her father's passing, she included this note: "I am so thankful for you and your gifts. And that you were able to help us put together a truly wonderful gift for our family. It would not have happened without you. Thank you so much, Melanie."
I consider it an honor to have been involved in The Geertsema Chronicles, and I will continue to use this project as a model for other would-be autobiographers!
Getting started
What obstacles keep you from making progress on your memoirs or autobiography? Is it a feeling that you don't know where to start? Or that you don't have any stories worth telling? Don't think that. One day, after you're gone, your children or grandchildren will think of something they had always meant to ask you. Without a family memoir, those details will be lost to history.
Take a step forward today. Buy a book like the one John Geertsema's family gave him. I don't know the title he used, but I myself have used To Our Children's Children: Preserving Family Histories for Generations to Come, by Bob Greene. There are many other highly-reviewed options available from Amazon.com as well. The important thing is to choose one and get started.
Already have some stories down on paper? Email me to see if I can help you take the next step. I'll take a look at your manuscript, recommend the level of editing service you need, and give you a pricing estimate.
Whatever your next step is, remember to enjoy the process as well as the finished product. It's all part of sharing your story!
Not sure about the difference between an autobiography and a memoir? Compare John Geertsema's project with Bea Hoek's in my next post—Cancer Freedom: a living memoir.