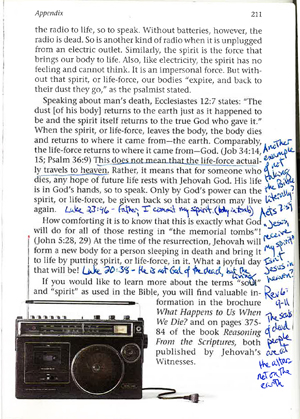 My Jehovah's Witness neighbor and I have been meeting weekly for more than a year now. We still aren't even halfway through the little book she gave me last February, because many of the questions I ask force us to do additional studying. And debating. We often reach a point where one of us says to the other, "We'll just have to agree to disagree about that." (Click on the image for a close-up of the kinds of points we debate.)
Throughout this year of discussion, study, and getting to know my neighbor, I have become aware of some distinct advantages Jehovah's Witnesses have over Christians:
1. They know their Bible.
Jehovah's Witnesses are very familiar with the Bible—at least they seem to be. During the 90 minutes I spend with my neighbor each week, we bounce around from book to book, from the gospels to the minor prophets, from an isolated verse in a Psalm to a partial quote from an angel in Revelation. Sometimes I'm reminded of a game my Sunday School class used to play, where the teacher announced a reference, and the whole class raced to see who could look it up first!
Bad news: Christians don't have as much experience navigating their way through the Scriptures as Jehovah's Witnesses do, and this puts us at a disadvantage. (See "3 Reasons Christians Don't Read the Bible.")
Good news: Bible hopping is not the same thing as Bible comprehension. My neighbor certainly knows her way around the Scriptures, but often the verses she directs me to are short clips—not even full sentences. When I point out that the greater context is actually making a different point, she sometimes concludes that she needs to study that more and get back to me.
2. They practice evangelism.
A few years ago I was in Mexico interviewing an evangelical church planter. He told me, "Something we pray for all our new converts is that they will have the head of a Calvinist, the heart of a Pentecostal, and the legs of a Jehovah's Witness!" Jehovah's Witnesses have earned an international reputation for going door-to-door, sharing their beliefs. (In fact, my meetings with my neighbor began because she came to me, not because I went to her.) They begin in grammar school, and they are expected to continue the practice in the face of rejection, inclement weather, busy schedules, and questionable results. It's part of their culture.
Bad news: Christians tend to leave evangelism (and other important faith exercises) to "the professionals"—ordained clergy, paid staff, or people with "the gift" of evangelism. Most of us don't get the practice we need to become better at talking about God.
Good news: Jehovah's Witnesses are willing to come to us! The next time a pair of well-dressed strangers knocks at your door, assume that God sent them to you, and be willing to welcome them in so you can study His Word together. (But make sure you are prayed up and studied up for this. It's not an easy assignment.)
3. They are unified and isolated.
There are no different "denominations" within Jehovah's Witnesses. All their doctrines come from a Governing Body of seven men who publish and distribute teachings via the Watch Tower Bible and Tract Society. The Governing Body is considered God's spokesman, so disagreeing with—or even questioning—their proclamations can put a Jehovah's Witness at risk of investigation and possible disfellowshipping. The resulting unity of beliefs tends to create an "us vs. them" sense of righteousness. In fact, some of my conversations with my neighbor have made me wonder if the Governing Body exalts certain issues to the level of "doctrine" only to give adherents another way to be different from most other religions! For example:
Jesus was crucified on a "torture stake," not a cross.
Holidays should not be celebrated.
Birthdays should not be celebrated. (Why? Because the two mentioned in the Bible were occasions for bad things—Genesis 40:20–22 and Matthew 14:6–10.)
Blood transfusions are forbidden. (No, wait, God's spokesman changed its teaching on this!)
Bad news: It can be difficult to engage in thoughtful dialog with a Jehovah's Witness because they are indoctrinated against even considering other ways of looking at things. And it can be easy to get drawn into arguments about non-essentials.
Good news: I ask questions because I genuinely want to know the answers. And I think my neighbor appreciates my curiosity. Maybe my questions will inspire her to be more curious too.
What do you think?
Am I right in thinking that Jehovah's Witnesses have the advantage over Christians?
Are there any advantages that Christians have?
*Throughout this post, when I use the term "Christians," I am referring to people who believe Jesus Christ is God. Jehovah's Witnesses also refer to themselves as Christians, but they believe that Jesus Christ is "a" god.