translation of a poem by Andreas Gryphius
From here I ne'er will part! May all the sabers ring!
Grab pike and sword and lance! Use weapon's every might
and flame, and all that this dark world would deem as fright.
Not death nor Devil tears me from this cross whereon I cling.
'Tis here, when I am torn by woe and suffering,
when earth and sea rift, and even thunder's might
roars 'round my head with blades of jagged blood-red light,
'tis here when heavens fall that I remain to proudly sing.
And in face of Satan's dragons is no trembling in my heart,
for I know throughout all ages will my Savior never part.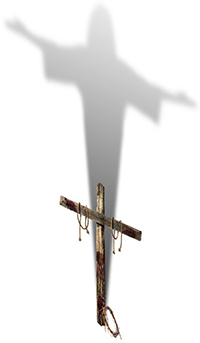 And here, if be your will,
shall I meet death's blow
But You, my humbled Lord,
upraised upon the wood,
bow down your bruised head,
so stained with streams of blood,
and through your gruesome death
shall I eternal slay the foe!
---
the poem in the original German

An den gekreuzigten Jesum

Hier will ich ganz nicht weg! Lass alle Schwerter klingen!
Greif Spieß und Säbel an! Brauch aller Waffen Macht
Und Flamm', und was die Welt für unerträglich acht!
Mich soll von diesem Kreuz kein Tod, kein Teufel dringen.

Hier will ich, wenn mich Ach und Angst und Leid umbringen,
Wenn erd' und meer aufreißt, ja wenn der Donner Macht
Mit dunkelrotem Blitz auf meinem Kopfe kracht,
Ja, wenn der Himmel fällt, hier will ich frölich singen.

Weil mir die Brust noch klopft, auch weder dort noch hier,
Und nun und ewig soll mich reißen nichts von dir.

Hier will ich, wenn ich soll, den matten Geist aufgeben.
Du aber, der du hoch am Holz stehst aufgericht;
Herr Jesu! neig herab dein blutig Angesicht,
Und heiß durch deinen Tod im Tod mich ewig leben!