LANSING, Ill. (July 15, 2017) – When Ross Leck and Barb Vlietstra try to figure out how long Lansing has been doing Cruise Nights, they refer to other Lansing milestones to orient their memories. The Clock Tower, the Park Foundation, Denny Flanagin, L.A.C.E., Thunder Road—all are part of Cruise Night history. The details are recorded somewhere, but they didn't surface in time for this article.
What does become apparent—even to people who know nothing about engines, paint, or chrome—is that Cruise Night is a celebration of community. First-timers get advice and encouragement. Long-timers get respect. Amid the laughter and questions and pizza and neon, old friends reunite, and newcomers are welcomed into the family.
Scenes from Cruise Night
Barb Vlietstra of Thunder Road Productions believes the sense of community is what makes Lansing Cruise Nights so special. In this video she explains (1) what judges at a typical car show look for, (2) how a Cruise Night is different from a car show, and (3) how Lansing's Cruise Night is unique in the area:

Tony Rone welcomed me into the car community by giving me the keys to his Buick Skylark. I didn't understand most of what he told me about it, but he had clearly put a lot of work into the engine and the interior. In fact, he had won an award at another car show earlier in the day.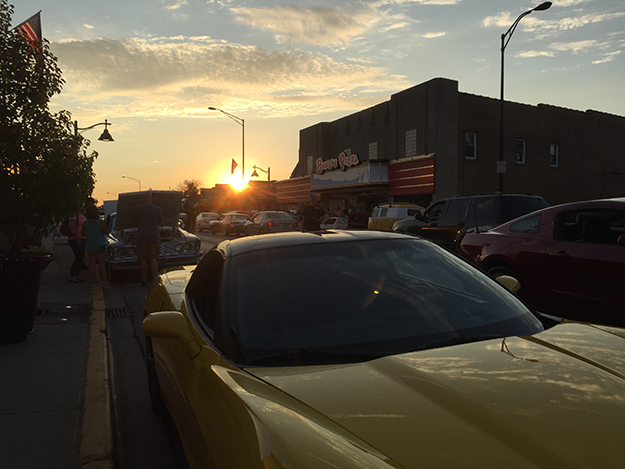 ---
Interested in more Lansing news? Visit TheLansingJournal.com to be notified as progress unfolds on Lansing's own newspaper….