I've done some writing for Cary Christian Center, a small ministry making a big difference in the tiny town of Cary, Mississippi. They would contact me each month to write their fundraising appeal.
Now, I have quite a bit of experience writing appeals for non-profits, but Cary Christian Center is different. Cary, Mississippi, is almost like another country—poverty is normal, racism is expected, the pace of life is slow, and their computers are down half the time. This means it can be difficult to get the resource I need in order to write a really effective letter. And it means I almost never know whether a letter has been effective. That data may be available somewhere, but accessing it is not a priority for anyone at the Center. So a lot of the time, I'm "flying blind."
The personal touch
Early in my relationship with Cary Christian Center, I flew down to Jackson, rented a car, and then drove a couple hours through towns with names like Yazoo City, Rolling Fork, and Hollandale—into the greenest farmland I've ever seen. It was like stepping back in time. I spent two or three days in Cary, visiting their ministry center, meeting the staff, interviewing some of the recipients, sitting in on a board meeting, fellowshipping in people's homes, taking photos, shaking hands, asking questions, jotting notes. Those photos, notes, and memories of conversations became fodder I could draw from each month to help Cary Christian Center share their story.
An urgent need
One month when Director Dorsey Johnson solicited my help with an appeal, his first step was to email me the letter pictured here, which had been written by Jerry Vogel, president of Cary Christian Center's board. (Click on the image to read the letter.) I wasn't sure why this letter was written by the board president, since Dorsey is the one whose name typically appears on the monthly appeal. I assumed the recent flooding in Mississippi had put the ministry in special danger.
Then Dorsey called me. He let me know that the ministry was, in fact, in danger—though not from the floods. I could hear the strain in his voice as he explained that giving had been steadily declining for several months, and now it looked like the ministry might have to close its doors in just a few weeks, unless a miracle happened. He wanted to let me know up front that they probably wouldn't be able to pay me for my services.
I said I would see what I could do with the information I had.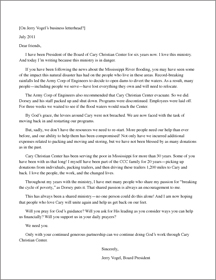 That phone call helped me craft the version of the letter shown at right. (Click to read it.)
Not enough urgency
I sent this draft of the letter to the team of people who review each month's appeals. The team includes a professional direct mail consultant who volunteers his services for Cary Christian Center. His response to the letter was, in part:
"This letter is NOT NEARLY urgent enough. It states only some of the facts, but not nearly enough detail for people to know what is really going on. …There needs to be many more details added letting people know that no programs can go forward, that staff will not be paid, etc. Give some actual financial details showing just how bad it really is. There needs to be CAPS and underlining, shouting with emphasis, etc. It is far too "matter of fact."  If there is not real danger or urgency people will not respond as we need them to. When finished this could well be a 2- or 3-page letter instead of 1 page as now."
The personal touch, again
A conference call was suggested, with myself, Dorsey, the board president, the consultant, and a couple other people who might be able to add salient details. It was a few days before I could fit that call into my schedule, but when I did, I got the information I needed to write a really strong letter.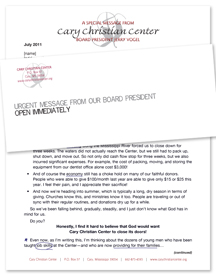 It was helpful to hear directly from Board President Jerry Vogel, so I could get a sense of what Cary Christian Center means to him personally. He's not an overly emotional person, so the phone call helped me write a letter that conveys urgency while staying true to his voice and personality. I also gained clarity on how the floods have impacted the ministry, and what else has been going on to create the current situation.
The final version of the appeal is reproduced at right, and you can click the image to download a PDF of the full three-page letter it turned out to be.
Lessons learned
Personal involvement is necessary for accurate ghostwriting. I understand Cary Christian Center because I have visited there myself. I also understand the donors they are trying to reach because I'm a member of that culture. So I can serve as an effective bridge between the two.
Personal involvement needs to stay fresh. My memories of my trip to Cary were five years old at the time of this appeal. They were still valuable, but they needed a fresh injection of life. The personal phone call from Dorsey helped with that.
Conference calls work when the right people are on the phone. My phone call with Dorsey was good, but it was the conference call that gave me the full picture I needed. Some people on that call had numbers and statistics. Others had stories and names. Some conveyed desperate hope. Others were in stubborn denial. I needed to hear all the conflicting, varied viewpoints in order to figure out what to say to donors and how to say it.
We all need help. It took courage for Dorsey to ask me to work on this letter when he knew he couldn't pay me. And it took some grace on my part to schedule an unplanned-for conference call in the middle of an already-busy week. Dorsey needed help, and I needed help, and we both had to ask.
How will the story end?
The story of Cary Christian Center is still being written, though I don't know how long they will be able to stay open. Their story is ideal for telling through Facebook and other social media—because it's very visual and photograph-able—but they've been slow to embrace those possibilities. In an age where people are able to instantly make donations and share information with their smart phones, Cary remains out of sight and off the grid.
The nice thing is, whether Cary Christian Center as an organization continues to exist, their story continues to be told in the lives they've changed.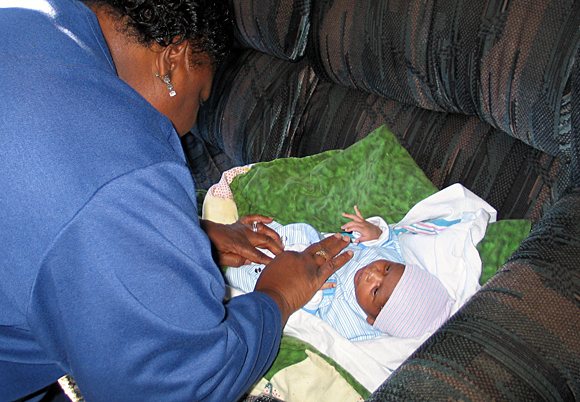 a