I've said it before, and I'll say it again: Thanksgiving is my favorite holiday. One of the things I'm most grateful for is the variety of good people I meet each year through freelancing, and the assortment of interesting assignments they bless me with. In keeping with my holiday tradition, here is this year's list:
Top 5 Projects I was Thankful to Work On This Year
#5 – Lucy Lanz memorial folder
Lucy Lanz's death this past September took all of us by surprise. She was known at Living Springs Community Church as a busy, energetic, caring servant who made everyone feel welcome without ever overwhelming them. We are still trying to figure out which of her ministry efforts we'll be able to continue and which were ones that only Lucy could do.
When her sister Ellyn asked if I would create a small photo card (PDF) for her memorial service, I was honored to be able to do something. I love the photo Ellyn had chosen for the front of the card (above). It really captures the spirit of Lucy, and it brought some joy to a difficult loss. In fact, we used the same photo a few weeks later when Ellyn decided she needed to send a special thank-you card to people who had been involved in the service.
Lucy's memorial service turned out to be a time of healing, laughter, and stories of a life well lived. I especially want to remember "Howdy Rounds"—a tradition that Lucy's father upheld every time the family went camping. After their campsite was set up, Dad and the family would stroll around the campgrounds, introduce themselves to the neighbors, and take a genuine interest in their lives. "Howdy Rounds" became a way of life for Lucy, and she made friends wherever she went. That's a legacy I want to incorporate into my own life story.

#4 – Cary Christian Center urgent appeal
I've been sharing the story of Cary Christian Center for several years now, usually through their monthly fundraising appeal. When times got tough this summer, and the ministry was facing the prospect of closing its doors, we had some long phone conversations that helped provide me with the details I needed to craft an urgent appeal that turned out to be very effective. It was heartwarming to hear from people who were eager to support the ministry—they just hadn't realized how desperate the financial situation was. Plus, in the months following the urgent appeal, I teamed up with an old friend and respected colleague, Karen Racek (whom I would link to if she had any online presence at all), and she brought fresh creativity to serving this ministry. It was a pleasure to work with her again.
#3 – Burma-Shave signs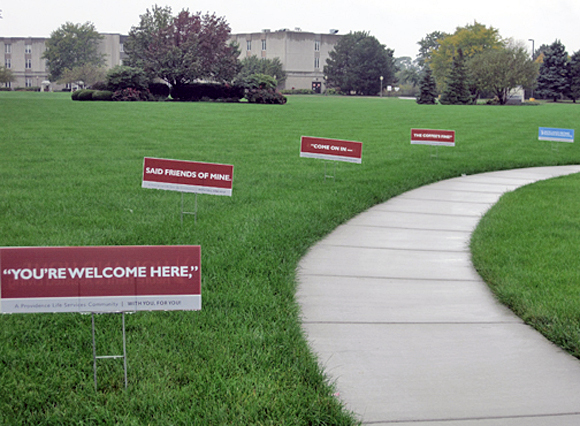 When Holland Home Retirement Community (where my grandfather now lives) decided they needed some signs with a creative message that would grab the attention of passersby, I thought of Burma-Shave. Even though the iconic Burma-Shave signs had stopped being produced before I was born, I remember reading about them, and I have always loved them. Holland Home's target market is perfect for a Burma-Shave-style campaign, since the signs were popular between 1925 and 1963. I wrote four poems in classic Burma-Shave meter, and each had a turn along the sidewalk leading to the mailboxes. The signs pictured above read:
"You're welcome here,"
said friends of mine,
"Come on in —
the coffee's fine!"
Holland Home
#2 – Doyle Designed

When you have people stopping you in the parking lot to ask where you get your hair cut, you know you've got a good thing going on. This happens to me with increased frequency since last December, when I began going to Doyle Designed.
It started when I came across a coupon for $10.00 off any Doyle Designed service. I went to Doyle's website and was intrigued enough by the content that I decided to use the site's Contact Us form to see if I could get an appointment. My experience has been that many small businesses have Contact Us forms on their websites, but few actually respond when you do contact them that way. So I was pleasantly surprised when Doyle emailed me back the same day! We set up an appointment, and that began a relationship that has developed into sort of a monthly brainstorm-and-beauty session that benefits both of us.
Doyle is very creative, very kind, and very involved in his community, so we spend time talking about all sorts of wonderful projects he has in process. I offer input on his website and blog (go ahead and subscribe!), write occasional marketing letters for him, ask about the book his sister is writing, and share insights about social media. He puts me in touch with people he knows who need writing help, gives me networking ideas, and shares stories of business promotions that have worked well for him. Not only do I enjoy having a fellow creative professional outside my own industry to exchange ideas with, I love getting a consistently good haircut every time! Doyle doesn't try to make me into a high-maintenance, traffic-stopping, product-dependent glamour-girl; he just gives me a nice cut that flatters my face, fits my busy lifestyle, and lasts until I can get in to see him again the following month. Thank you, Doyle!
#1 – Grandpa Henry's Estate Sale
In August, my 93-year-old grandfather moved into Holland Home (yes, the same Holland Home mentioned in #3, above). To help with his expenses, we held an Estate Sale of his condo belongings, using my garage. I used Facebook to let people know about the sale, and it was so much fun to get interaction from people that way! I felt like this was social media at its best.
I started by creating a Facebook Event to let people know about the sale. In addition, for a week or two leading up to the sale, I posted photos of some of Grandpa Henry's belongings, along with the stories behind them. Some people placed bids right then and there; others asked questions; and a few expressed interest and asked me to hold the item until they could get to the sale.
The day of the sale, we had beautiful weather, and a LOT of people showed up—including friends from church who were not only interested in the items for sale, but who also wanted to support my family as we worked to support Grandpa Henry. It was really heart-warming.
Then, for a week or so after the sale, I posted stories on Facebook about the people who had bought various items, and that was really fun too. Like the big, tattooed guy who bought bed lifts so his pet chihuahua could sleep under the bed. And the little lady who found exactly the perfect double-frame for her photos of her husband and father who had both served in the military. And the college kid who bought a couch. And the neighbor down the street who bought a desk for his kids to do schoolwork at. Facebook really turned out to be a great way to generate interest, post photos, thank people, and then share the stories that most people were unaware were going on around them.
Thank you
So let me close by saying thank you, subscribers, commenters, clients, colleagues, and friends, for another wonderful year. I am enriched by the various roles you play in my life.
My Thanksgiving prayer for you is that your tables will be filled with more than you need, your homes will be graced with the people you love, and your hearts will respond by giving back in the same measure or more.
Happy Thanksgiving!
Related posts: