Every once in a while, I get to help share someone's story in a unique way: a memorial folder for their funeral.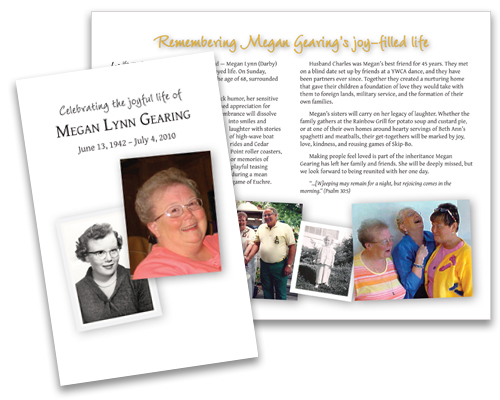 Working with professionals
I recently worked with Matthysse Kuiper DeGraaf Funeral Directors to create a memorial folder honoring Megan Gearing. Now, I don't know Megan Gearing, but Matthysse Kuiper DeGraaf does a great job of gently gathering information. They gave me the details I needed to create the folder shown above. (Click the image to view a readable PDF.) The family loved it.
Mike Matthysse serves from the Grandville, Michigan, location of his family's funeral home. I first met him in 2006 when a friend of my family, Marian Vredeveld, died suddenly. I met him again about three years later when Marian's husband, Richard Vredeveld, died. In both situations, Mike and his team were compassionate in all their interactions with us, while efficiently taking care of details none of us realized were necessary.
As a matter of course, the staff at Matthysse Kuiper DeGraaf "interview" the family to learn as much as possible about the deceased. This helps them convey the person's story in a meaningful obituary. It also gives them insight so they can guide the family through planning the visitation and service. Marian and Richard's children had pretty specific ideas about the services for both Mom and Dad, and I was honored to design the programs for both. (Richard Vredeveld's memorial folder was one of my favorite projects of 2009.)
At some point, Mike realized that custom memorial folders should be an extension of Matthysse Kuiper DeGraaf's ministry to grieving families. We began working together to make that happen.
Sharing a story
Even if the funeral home serving your family is not as sophisticated as Matthysse Kuiper DeGraaf, you can still share your loved one's story, as the family of Del Dykstra did (below). Del's wife Eileen wanted something simple to hand out at his memorial service. She gathered photos that gave people a glimpse of Del's personality. (Click the image to view a readable PDF.) We chose a size small enough (4.25×5.5″) to fit conveniently in a Bible, yet large enough to comfortably display photos, captions, and meaningful quotes. This little folder became a keepsake treasured by family and friends alike.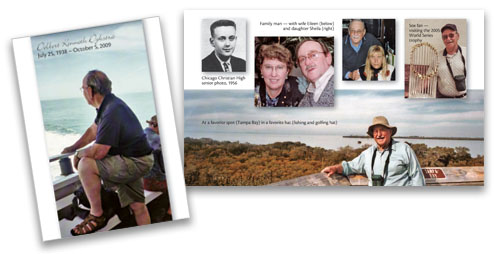 Memorial folders…treasured keepsakes
It's difficult enough to share someone's life story in a handful of photos and words. And the maelstrom of emotions surrounding a loss does not make it any easier. That's why it can be so helpful to work with an experienced funeral director who knows what questions to ask. And a sensitive wordsmith who can craft your answers into a treasured keepsake. When the process is handled well, many people find healing in creating their loved one's memorial folder.
Click on the samples above to see if a memorial folder is something you'd like to create in memory of a loved one. Then contact LifeLines for help with the process.