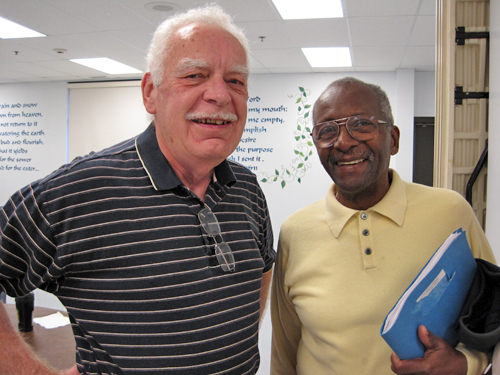 Last October, 54 people signed up for a program that was then known as Breakfast Club. (It is now known as Common Ground.) This past Saturday we met at Living Springs church to celebrate our year of learning. Not everyone lasted through the year-long program. In some cases, people moved away and had to give up their monthly meetings. In other cases, busy-ness crept in, and it became harder to make Breakfast Club a priority. And, I think, in some cases there just wasn't enough common ground on which to build a mutually beneficial friendship. But for most of the participants, it was a good year. Many of them didn't know each other before they were paired up, but now they consider themselves good friends. At our Saturday celebration, we shared testimonies about things we learned, problems we solved, and milestones we reached. It was a rich time.
Difficult relationships
I often say that Americans today are really not very good at relationships. Culturally, we just don't place the same value on community that many other cultures do. We pride ourselves on independence, self-reliance, and achievement—but relationships often require inter-dependence, humility, and sacrifice. The fact that participants in Common Ground not only build relationships that last at least a year, but also talk through race-based hurts and accusations, is a testimony to the uniqueness of this program. It's also a testimony to the power of God to save, heal, deliver, and set free.
Deeper than "diversity training"
Honestly, I don't know how well the program would work without the Christian element. In fact, participants have told me things like, "I've been through 'diversity training' before, and it doesn't change anything. But this is different." I agree. It is different. The people pictured here, and others who have been through the program, found ways to talk about race, work through past issues, and emerge as friends. Race is a part of those friendships, but the friendships now transcend race. It's really beautiful. Refreshing.
Finding common ground
Common Ground will start a new year with a kick-off meeting at Living Springs on October 23, 2010. If you are interested in learning more about the program, click here to view a printable PDF of the informational flyer. If you don't attend Living Springs, do you think Common Ground is a program your church, school, workplace, or other group would benefit from? Why or why not? If you're not a Christian, do you think it's possible to do a program like this successfully without the faith element? I don't think it is, but I admit, I'm biased! I'd like to hear other opinions.
Related posts