George first came to me with an antique-looking copy of a hardcover book that he had found among his grandfather's belongings. Titled Arrows, it was a collection of his grandfather's poetry, published in 1931 by J. J. Little & Ives Company in New York. (George's grandfather, Judge William Archer, was something of a renaissance man.) His daughters gathered some of his best poems and somehow got them published and printed. They presented the hardcover volume to the Judge as a surprise gift for his 60th birthday.
When George found the old book, he wanted to not only re-publish the collection (the original publisher is no longer in existence), but also add other information—other poems from his grandfather, old family photos, and various artifacts of the family history.
So we got to work. I re-typed the original Arrows, and I scanned and placed the photos and documents George wanted to add. Soon we had a book of 112 pages that we re-titled Archer's Arrows. We used Lulu.com to print 25 copies.
George loved them
He eagerly gave copies to his mother, his siblings, and other friends and family members. When his first print run was depleted, he printed more.
In the meantime, George kept finding new memorabilia he wanted to add to the book—a photo of the 1930 Safety Conference his grandfather attended, a 1913 certificate from the Industrial Commission of Ohio, photos of his grandfather with such notables as Frances Perkins and Thomas Dewey. (I've often wondered what George's house must look like, because it's amazing what historical treasures he "just happens" to come across that he didn't even realize he had!) George kept finding things he wanted to add to his book, and we kept adding them. By its 9th revision, Archer's Arrows was up to 216 pages!
Then George moved on to another project
He began writing a book which he titled Significant Grandfathers. Now, George is not a writer, but he had fun with this project, and it was very creative. He set the stories up as a series of conversations between his two grandfathers, and he used this narrative device to introduce a lot of little-known historical facts that would be of particular importance to his family.
But George knew he needed help to really bring his book to life, and that's why he contacted me. He loved what I had done with Archer's Arrows, and he wanted the same kind of wordsmithing and layout for his second book.
For example, here's a page of text as George provided it to me…
…and here's that same section as it now appears in his book: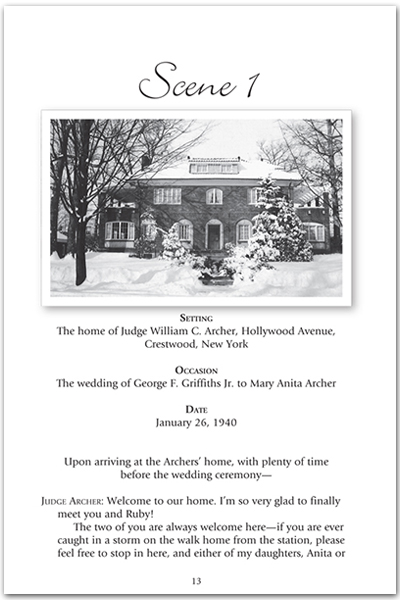 It was a lot of work—researching, fact-checking, and confirming stories, in addition to extensive editing and layout. And because of George's eagerness to keep adding, keep enhancing, keep revising, for a while it felt like the project would never actually be done.
But we did publish and print this new memoir, and it did go through a series of revisions and re-releases, just as Archer's Arrows had. I think we're up to version 7 or 8 now.
Tears of joy
George is fun to work for because he's always so appreciative! In fact, the "George G" endorsement on my endorsement page comes from an email George sent me after the first version of Significant Grandfathers was completed: "I cannot tell you how wonderful I feel seeing this 40-year-old project coming to fruition. Thank you!"
He also forwarded me an email from his brother, to whom he had sent a copy of Archer's Arrows. The brother wrote, "I'm overwrought with tears at your accomplishment. …I can't stop crying."
That's why
In the end, that's why people write memoirs: to capture their own memories, to organize them in a way that will speak to future generations, and to make an emotional connection among family members.
It's an honor to be a part of that process.
How about you?
You too could be a serial memoirist! You can have your memories and stories printed in book form and not have to worry that it's "perfect" the first time. Like George, you can add new information, new photos, new chapters anytime you want. I would recommend, however, that you put a date code on the title page of each version, so you'll be able to tell what version you have if you happen to come across a copy later!
Why not start today? And let me know if I can help.
Possibly related links: