Happy Thanksgiving!
Last year's Thanksgiving blog was a Top 10 list, but on looking back at it, I wondered if 10 top things might be a little overwhelming for readers. So this year, at the risk of leaving out even more people, I've shortened the list, so it will be known as—
Top 5 Projects I was Thankful to Work On This Year
(Once again, I apologize in advance if your project is not listed—it's been a full year with fantastic variety, and I couldn't list all of you!)
Number 5
Christian Hunting Stories
When Carl Heule at HeuleGordon Inc. asked if I would be available to proofread a book they were laying out and printing, of course I said yes. The manuscript arrived, and I began reading it, and I could tell right away this would be a unique project. The "author" of the book, Jonas Mast, was really a "compiler" —of hunting stories from Christian, salt-of-the-earth type people who clearly love hunting and creation and God's great outdoors.
The writing style (and punctuation) varied from story to story, so it was a challenge to bring some consistency to the chapters without losing each storyteller's voice. But while editing I enjoyed learning about things like turkey calling, mulley bucks, and bugling elks. In fact, reading the book, I felt as if I were sitting around the campfire with the hunting party, rehashing the day's adventures. Here's a sample:
"I slowly raised my gun and squeezed off a shot. He didn't bat an eye, so I popped one in front of him. Then he slowly turned around and left. Had that actually been a grizzly wanting to get me, I knew good and well I could have been minced meat and hamburger before I could have gotten my gun out. Right then I added another line to my resolution: Always pack a gun, and make sure you can get to it NOW!"
Good stuff. And you can see from the photo that the team at HeuleGordon did a nice job creating a beautiful book out of what started as a collection of handwritten pages.
If you're interested in ordering a copy for the hunter in your life, click the image of the book to download a PDF of the order form. Quantity discounts are available!
Number 4
John Klompmaker Carving Blog
John Klompmaker and I are both part of a group of tennis players who meet at the high school courts every Saturday morning throughout the summer. It was just a few weeks ago that a thundershower prevented us from playing, and somehow I ended up at John's house, where he showed me his woodcarvings and expressed regret that he didn't have time to set up a website to showcase his work. I suggested he set up a WordPress blog instead, because the interface is easy and a blog would give him more flexibility and social networkability than a typical website would.
John was intrigued, so I helped him set up a WordPress account, chose a photo blog template, and uploaded a few posts and pages to get him started. He took it from there, and within a week he had more than a dozen entries and nearly 100 photos in place! Within three weeks he was receiving comments from people outside of his personal network! (This is a major milestone for new bloggers.)
What made this project so fun was the synergy created by John's passion for woodworking and my passion for blogging. Blogging is the perfect medium for John's message, and it's been exciting to see him make the most of it.
If you have any interest in artistic woodworking, subscribe to John's blog. If you don't, forward it to someone who does! And if you're looking for one-of-a-kind Christmas gifts, check out his online gift shop of Klompmaker originals.
Number 3
Memorial Folders
You might recall that last year's Thanksgiving list included the memorial folder I helped create when the father of my best friend passed away. Since then, I've begun working with the funeral home that served her family during that time, Matthysse Kuiper DeGraaf. Together we create memorial folders that are a genuine encouragement to grieving families, as I explained in a recent post titled, "Memorial Folders: a final tribute to your loved one's life story."
I enjoy working with Matthysse because it's clear they really care for the people they serve. And I enjoy working on memorial folders because it's an opportunity to transform a few words and pictures into a crystallized life story that becomes a meaningful keepsake for family and friends.
Number 2
Pakistan Projects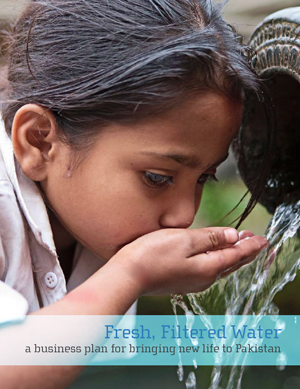 Franklin Woodland is an entrepreneur with a heart for people. Right now he's bringing his business acumen to a series of projects that will benefit the people of Pakistan. I've enjoyed helping Franklin share the story of these projects because they gave me a chance to do research I wouldn't normally do, and learn things I wouldn't normally think to ask about, such as:
why water, which covers so much of our planet, is so scarce in some areas;
why Pakistani dairy farmers struggle to earn a living, even though that country is the fourth largest producer of milk;
how Behali furniture can offer restoration on more than one level.
In addition, Franklin's projects gave me the opportunity to work with Phil Black, whose design reflects more than talent, but also a real desire to connect and communicate. Early in our first project, Phil told me his philosophy of design is that everything—images, colors, words, fonts—should work together to ensure the message is delivered. Design should enhance the message, he affirmed, not distract from it or become a competing message. The image shown above is a cover Phil designed for the "Fresh, Filtered Water" project we worked on for Franklin. It's typical of Phil's beautiful work, and he was delightful to partner with.
Number 1
Faith In Action
The Number 1 project on my list this year is a volunteer effort for my church family, Living Springs Community Church. I have already blogged about our Faith In Action adventure, so I won't repeat the details here. Suffice it to say that Faith In Action Sunday was the most vibrant, joy-filled, Spirit-energized experience I've had in a long time. Watch the video on this blog to get a sense of what I'm talking about. And watch the slideshow below to see the variety of projects we were involved in that day:
http://vimeo.com/16076932 w=540
(This Faith In Action video is set to "The Last Jesus" as performed by Kirk Franklin on his album, The Fight of My Life.)
Being captain of the Camera Crew gave me an opportunity to work with a team of volunteer photographers who not only embedded themselves in the work teams, but also returned to home base promptly to efficiently offload their camera cards to my laptop. The slideshow feature in iPhoto made it easy to put together a continuously updated slideshow that the teams could enjoy as they returned to the church building for lunch. And my handy-dandy Flip Video camera made it easy to capture people's enthusiasm about their experiences. And of course iMovie made it easy to turn all those enthusiastic clips into a good-looking movie, which we showed during the following Sunday's church service.
On that 1 Sunday there were 450 people working on 16 projects in 12 locations, and my Camera Crew and I got more than 1,000 photos of them! If you don't want to take the time to watch either the slideshow or the video, visit the Living Springs Facebook page and click through all the Faith In Action photo albums posted there. (While you're there, click the "Like" button!)
Thank you
So there you have it, another year of projects to be thankful for. And not just projects (which I enjoy because I'm a task-oriented person), but people—good people doing good work in the name of a good God. It's an honor and a joy for me to have a part in sharing stories like these, and I do not take that for granted.
Happy Thanksgiving, friends and colleagues! May the abundance you pour into others' lives throughout the year come back to fill your tables and your hearts this Thanksgiving season.a